Our Ministry | History | Board of Directors
President of Crosstalk Ministries
Christopher Belle
Hello. I am blessed with the honour of being the President of the Crosstalk Ministries Board of Directors. It is my privilege to lead the monthly meetings, as well as help coordinate the efforts of the various ministries. I also pray that God will protect us and guide us.



Vice-President of Crosstalk Ministries
Vacant
Director of Finance and Administration
Mark Latulipe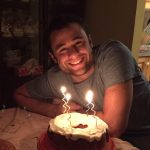 As the director of Finance and Administration it is my responsibility to ensure that the finances of CTM are up to snuff. I take on this responsibility fully aware that I do it all by the grace of God, not by my efforts but by God's provision and will. I have been immensely blessed for the last 20 years to be a part of Crosstalk Ministries, from a camper in JYC and SYC, to staff and Director at SYC. It has been my pleasure and joy to work along such an amazing team of volunteers that help make camp so great each year. I hope to help continue the great work the God does through CTM and to hold to our mission of "Helping people of all ages to become strong disciples of Jesus Christ."
Director of Communications
Guylaine Chartier
I have been involved with CTM as Day Camp Travelling Team Member/Leader, Camp Counsellor/Registrar/Promo Guru at Senior Youth Camp and was one of many Office Workers.
My role as the now Director of Communications is to ensure that communications runs smoothly. That ranges from ensuring that we are running a user-friendly and device-friendly Website to any of the inner technical workings of CTM.
I also help out with promo materials for the various Ministries.
Director of Day Camps
Valerie Taylor
It is a privilege to direct the Day Camp Ministry, giving me opportunities to train and mentor young adults, work in committee creating a wide variety of programming and activities and also to liaise with churches and communities across Canada and beyond: "Helping people of all ages to become strong disciples of Jesus Christ"
Co-Director of Junior Youth Camp
Pippa Brotherwood
Co-Director of Junior Youth Camp
Diana Keener
As a co-director of Crosstalk Ministries Junior Youth Camp, I help in organizing and planning all that takes place during camp week. I joined the CTM team in 2016 to help give new life to the JYC.I desire to see kids come to camp to have fun and become disciples of Jesus! I love watching them understand their faith at a young age. We have so much to learn from them.


Director of Senior Youth Camp
Vacant
Director of Development
Vacant